Crazy Bee Man LLC Removal provides live honey bee removal to the general public as well as public and private organizations in Southern Florida. Crazy Bee Man LLC Removal has specialized in honey bee and honeycomb removal for many years. We can quickly and safely remove any size hive; find out how easy it is to rid your South Florida property of any type of bees.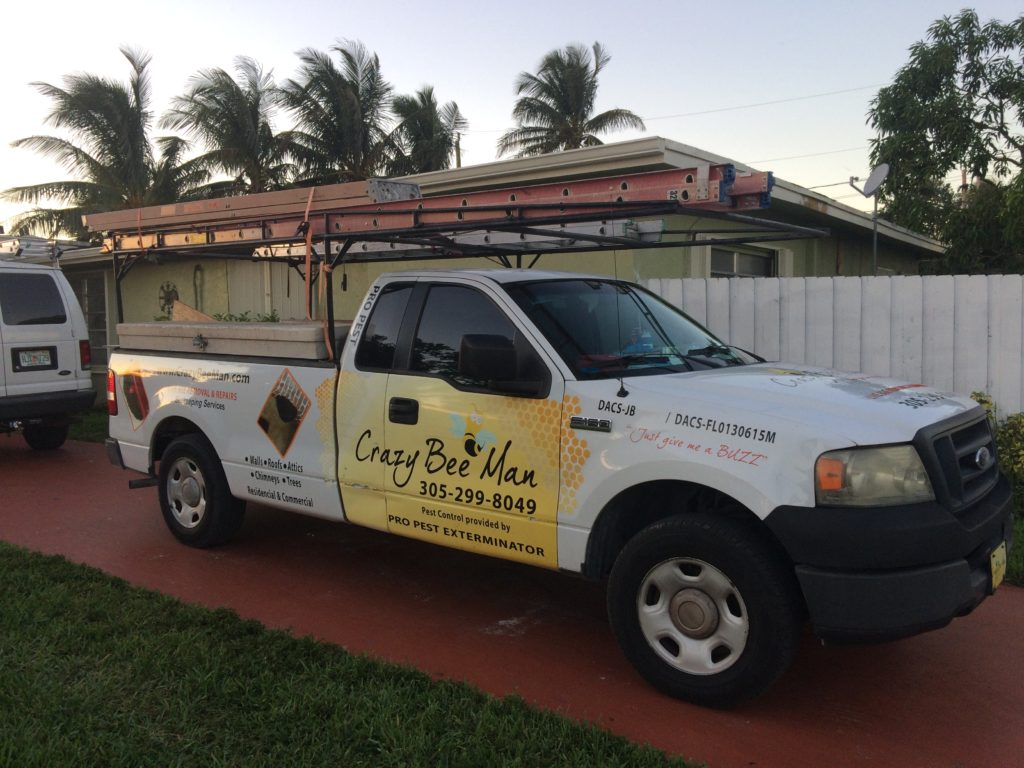 Crazy Bee Man LLC is proud to serve their community of neighbors and friends. We have been successfully removing bees in Miami Dade and Broward County in South Florida since 2008.
What Every Customer Should Know About Bees. Live bee removal can be hazardous for even a professional exterminator. Live removal almost always includes the removal of the honeycombs in the beehive.
South Florida Bee Removal Crazy Bee Man LLC understands the havoc bees can have on your home life. A few bees buzzing around a wall or opening can be a sign of the presence of a bee hive.
Live Removal of Bees and Hives
Act Now Before The Problem Grows
Call Us – We Are Ready To Help
Bee Proofing to Stop Recurring Bee Problems
Non-living
Beehive Removal
Bee Hive Removal and Structural Repair


Unfortunately, exterminating pests is not always a do-it-yourself job. Pests will make a nest area in your roof or cracks and crevices within your home. A missing shingle can easily become an entryway for pests. In fact, pests making a nest area in your house can also result in structural damage. There's also a risk of seasonal pests or rodents nesting in your home year-around. Do you hear mysterious sounds coming from your attic or ceiling? Strange noises are one of the first signs of a pest infestation. Don't let rodents take over your home or business in South Florida! A professional exterminator can get rid of pests once and for all. Their professional expertise allows them to pinpoint where rodents are residing in your house. Worst of all, pests love to burrow in the deepest places in your residence and can be hard to find. If you don't eliminate the nest, some pests will come back. Oftentimes, store bought pest control does little to permanently exterminate pests. Pests flee into your home because it's a warm area away from the elements, and in some instances, it can also be a source of food. Crazy Bee Man LLC in South Florida has the expertise to rid your home or business from bees once and for all. As professionals, we understand the fundamentals of successful bee extenuation. Having trouble with bees invading your space? Learn more about bee extermination by browsing our website.